About Mentally Deficit children Home, Children Aid Society, Mankhurd:
Vision :
Every Person with Disability has the opportunity to live, educate, habilitate and rehabilitate in a supportive and accessible institute.

MISSION :
To empower people with mental retardation to achieve their highest quality of life, to grow and fulfills their needs and potential in a supportive environment.

HISTORY :
Established on 30th September, 1941, this Home is the first major residential institution for Mentally Retarded Children in India functioning under the Umbrella organization of Children Aid Society. It caters sheltered care, protection and rehabilitation to mentally retarded boys and girls. These children are admitted here by Honourable Majesties of Juvenile Court and Honourable Chairperson of Child Welfare Committee. It carries out to the needs of 350 mentally challenged children, both boys as well as girls. This is one of the major institutions for mentally challenged for minor children of 6 to 18 years; the case of retarded children is quite different from that of others, as retarded children have nowhere to go, so these all beneficiaries are kept here till they breathe their last.

MDCH helps the orphan and marginalized children with mentally retarded living in the India. MDCH initiated a Comprehensive type of REHABILITATION program for the children with mental retardation. Rehabilitation therefore includes not only engaging the children with disability in to the various Educational and Vocational training, but also emphasizes the need for their Living, Activities of Daily Living and Medical conditions; so that the composite rehabilitation model program is integrated, to develop person-centred care for all beneficiaries and promote services that facilitate a good quality of life. Children and adults who are living in residential settings is enjoying a good quality of life and live in a place that feels like their home; one that upholds their personal dignity and respects their safety.

The sanction strength is 350 and present numbers of students is 281, but the capacity of MDC Home is only for 200 mentally challenged children. Home provides not only accommodation, food, clothing, bedding, and facilities for education of children, training & rehabilitation of children but also ensure development of their character and their abilities.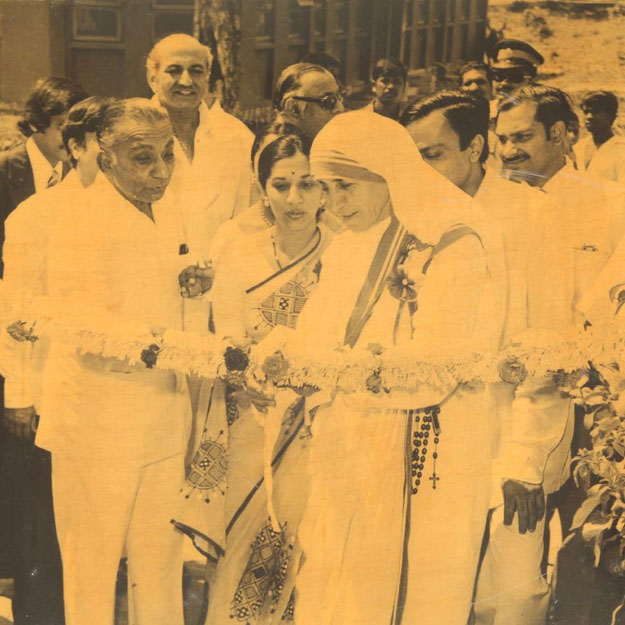 Inaugurated at the holy hands of 'BharatRatna' Mother Teresa

While the Home was established on 1941, a special section for mentally retarded girls, the 'Pitruvatsalya' was inaugurated at the holy hands of 'BharatRatna' Mother Teresa on 17th April, 1977.


INTIMATE POPULATION :
Intake policy of the Home for Mentally Deficient Children is in compliance with the rules and regulations of Juvenile Justice (Care and Protection of Children) Act, 2000. As per the above mentioned rules, the boys and girls who are certified as mentally challenged and who are categorized as the children in need of care and protection' are committed to the institution by Child Welfare Committees and Juvenile court. All these boys need to be in the age group of 6 to 18 years at the time of admission. The sanctioned strength of the children is 350 and in a year at average of 281 children are staying in the institution.


GOVERNEMENT CONTRIBUTION AT MDC HOME :
MDC Home is getting Aid of Rs. 930 per child per month. But, as per the annual expenditure report state that MDC Home spends around Rs. 2200/- to 2500/- per child per month.

On Date: 30 March, 2012 Mentally Deficient Children Home transferred from The Women & Child Development, Department to The Social Justice & Welfare, Department, Government of Maharashtra.

On Date: 22 June, 2018, according to government rule of Social Justice & Welfare Department has appointed new staff pattern at MDC Home.


ACTIVITIES :
MDC Home's core activities are residential care for people with disabilities, Child Welfare Services, health services, education, vocational training, Occupational Therapy & Physiotherapy Treatment, Dental clinics, counselling and supportive services.

Periodic checkup of residents is conducted by Medical Officer, Nurses, Occupational Therapist, Dentists, psychologist and Counselor


SOCIAL WELFARE SERVICES :
There are One Probation officer cum Superintendent and one Child Welfare officer, in the MDC Home who conducts Care & Protection services for beneficiaries.

Child Welfare officers; shares all administration task, prepare case works & group works of children with mental retardation and also maintain all medical record of the CWMR. CWOs plays very important role in the organization structure of MDC Home, they plays role of catalyst coordinates with other department of MDC Home. Children's are the utmost responsibilities of the CWOs; they maintain their Physical-psychological-social-health-educational records. CWOs also handle the human rights cases, child rights policies and all legal matters.


DATA OF RESIDENTS
The tables show the data of the residents of MDC Home. The table breakdown according to Intellectual Quotient (IQ) of the Children with Mental Retardation.

The details of the category of both the Girls and Boys section is as below for the year 2016-17




In Section (A), total number of Male Children with Mental Retardation is 131. Similarly in Section (B), total number of Female Children with Mental Retardation is 150,


RESIDENTIAL SERVICES :
The center has separate dormitories for male and female residents, which ffacilitate the residential need for 200 children with mental retardation & associated with other disabilities. Beneficiaries are provided the separate dormitory and each dormitory has its own lavatory. Children with terminal illness or dependent children are kept under supervision of a single caregiver. Caregivers provides proper daily living care such as eating, toileting, bathing, and dressing, for the children who cannot live independently, within MDC Home residents. Beneficiaries are categorized based on their IQ level and age, and they are under constant watch of caregivers and staff.


FOOD SERVICES :
Hygienic and nutritious food is provided to the residents. The food is made in controlled environment in the mess by experienced kitchen staff. Special food is also provided to sick residents as per doctor's advice. Constant checkup of the food is also conducted in the mess. A water filter has been installed to get hygienic water all the time.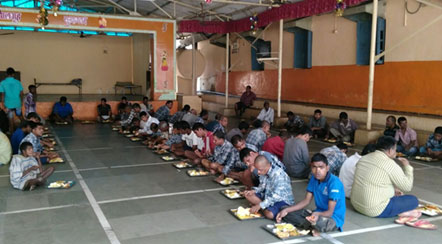 Dining Hall


MEDICAL SERVICES :
A medical unit with one Medical Officer, 3 Nurses and one compounder treat all the children housed in Mankhurd Campus for minor illness such as fever, cold, cough, scabies, diarrhea, vomiting, epilepsy and minor injuries.

a) For major illness, as per the suggestion of Medical Officer, children are sent to outside hospitals for thorough investigations and treatment like Shatabdi, LTMG, KEM, NIAR and JJ Hospitals.

b) Regular medical check-up of children is done by the Medical Officer.

c) The process of storage and distribution of medicine is properly documented (Medicine distribution log) and streamlined.

d) Medicines are distributed to children by nurses with the help of caregivers as per prescription which is reviewed by a nurse and supporting staff.

e) A separate medicine distribution log is maintained for temporary medicines. Sick children are referred to the Hospitals.

f) If residents are admitted in hospital, caregivers appointed to take care of resident at hospital. Staffs are oriented by nurses in taking care of their own health while dealing with sick residents.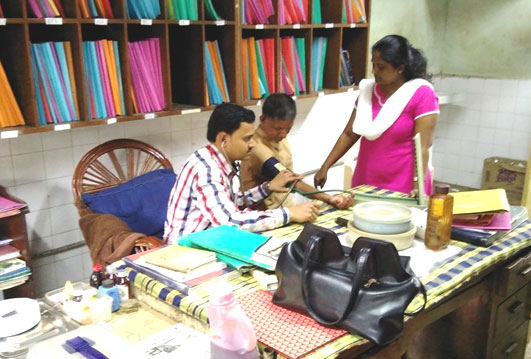 Medical Unit


Hospital Services :
MDC Home has a facilities of 10 beds, provides full nursing care facilities.These specially appointed Doctors, Nurses and Caregivers take care of all the requirement of the hospitalized including medicine and food as prescribed by doctor. Experienced Nurses are appointed to take care of the medical needs of the persons. Hospital has a well managed system of storage and timely distribution of medicines. The center also operated an Ambulance 24*7 which is used in the times of medical emergency.

Annual picnic:
In the summer vacations all the children are taken for a day long picnic to a water park.

Celebration of different festivals:
All Indian festivals such as Diwali, Holi, Christmas, Id, etc are celebrated in the institution.



Future Plans
1. Build compound wall around the kutirs (dormitories) for the security of the boys.

2. Develop a well stocked library for the boys.

3. Develop a small garden and courts/facilities for games such as table tennis, badminton, etc.

4. Reconstruction of all toilets.

5. Construction of a modern kitchen.

6. Modernization of carpentry and tailoring classes.

7. Construction of a well equipped gymnasium.

8. Development of a guidance center for competitive exams


Case Studies
1. Name: Kiran Chache (D.O.B: 14/06/1978)
Kiran was admitted to CCH in the year 1987 as per the court order. He was a destitute. Since he was good in studies, the authorities provided him all kinds of provisions to improve his efficiency in studies. After completing his grade 10, Kiran joined the Industrial Training Institute (ITI) for the trade of Fitter and successfully completed the course. He completed his 18 years of age in the year 1997 and was released from the home. However, with the assistance of an NGO working at CCH, Kiran was placed at BARC as a technician.
Even when Kiran was working at BARC, he did not abandon his dreams of continuing his studies. He got married to Swati and they were blessed with a child who is now 8 years old. He also owns a house at Juinagar. Thus, in spite of the family and job that he had to look after he simultaneously completed his diploma and now aspires to procure a degree. Besides all these, he is also very enthusiastic to come to CCH on various occasions and encourage and guide the children currently staying at CCH. He tries to extend his support to the authorities for the growth and welfare of the children. Thus, he is greatly fond of the institution and tries every bit for its overall development.

2. Name: Aashish (D.O.B: 22/11/2006)
Aashish, aged 9years, was admitted to Aasha Sadan as per the order passed by the Child Welfare Committee (CWC) on 9/12/2006. Since his parents were not found in spite of the search that underwent, he was declared destitute by the CWC on 04/05/2007 and was allowed to undergo adoption. But he could not obtain such an opportunity neither in India nor outside the country. The child was of a frail nature and suffered from Mild Cerebral Palsy. Thereby, he was admitted to CCH on 31/10/2013 for his rehabilitation and education. After he was brought to CCH, the authorities took special care of the boy child and provided him with all the necessary medical assistance to improve his physical condition. Moreover, he was also given special nutritional support at CCH. The medical faculty at CCH took special care of Aashish, as a result of which his physique improved to a great extent. The care taker registered his name into the school run by the institution. All the teachers showered their love and affection on him. All these helped him to be an active part of the various programs conducted in the school. He is very much contented being at CCH. Currently he is studying in grade 3.

3. Name: Jeevanprasad Nandaram Joshi (D.O.B: 23/03/1998)
Jeevan was brought to CCH under the guidance of the CWC on 27/06/2007. He was studying in grade 4 at the time of admission to CCH. Jeevan performed extremely well in his studies every year. He excelled not only in curricular but also in extra-curricular activities especially in sports. Also, Jeevan passed his 10th grade with 74.40% in the year 2014 and stood second in position in his school (Children's Aid Society's Higher Secondary School).
He bagged the 5th place in the Thane Marathon in the year 2014 and was awarded a medal and a certificate for the same. He also was a winner for the various sports competitions (Kabbadi, Kho-Kho and Relay race) held by the Jilla Mahila Baal Mahotsav Spardha, Chembur and was awarded medals and certificates for the same. Moreover, he won the first place in the Relay race and was felicitated by the Hon'ble Chief Minister of Maharashtra, Shri.Prithviraj Chavan.
Jeevan opted for the science stream at Sommaiya college for grade 11. Currently, he is procuring his grade 12 (year 2018-16) and has been working really hard to do well in his board examination.
Jeevan is a very helpful boy and has got great respect for all the authorities.

Contact Us at :
Chembur Children's Home
V.N Purao Marg
Opposite Anushakti Nagarbus depot
Mankhurd, Mumbai-400088
Phone no: - +91-022-25563780
Email : childrenso@yahoo.com